Millions of users are using private messaging apps like Whatsapp, WeChat, telegram, etc. But, not all the applications are safe to use. Among the multiple messaging applications here we are going to discuss telegram. Because many of the users of the telegram are searching for the term "How to Delete Telegram Account Permanently" the reason is security issues.
We are adding this information because Telegram is used by many people. But, when they found that the privacy concern of the telegram messaging was not updated since it was launched in 2013.
Telegram Star Rating 4.5
If you created your account and don't enable the security chat features then your conversation will be saved on the telegram server. The point is telegram servers are located around the globe.
With the help of the best step-to-step guide, you can deactivate Telegram accounts simply.
If you are concerned about your privacy and encrypt all your personal messaging. So, this article will show you how to permanently delete Telegram account?
Table of Contents
Step by Step Guidance to Deactivate Telegram Account
There are multiple ways through which users of Telegram can remove their accounts from the platform. It doesn't matter which device you are operating at. Below you will get to know about all the ways to know about:-
How to delete Telegram account from android permanently?
How to deactivate a Telegram account Permanently from the iPhone?
How to remove a Telegram account from a web browser?
Telegram Account Delete on Android, iPhone, Desktop
To delete the telegram account from any of your devices like android, iPhone and web is easy for you. You will have multiple ways to deactivate your account permanently from Telegram.
You only need to follow the below-mentioned instructions on the app and website of telegram. Follow the detailed instruction to delete Telegram.
What Dial To See If Your Phone Is Hacked 2023? Users Must Read About it
How to Delete Telegram Account on Android Permanently?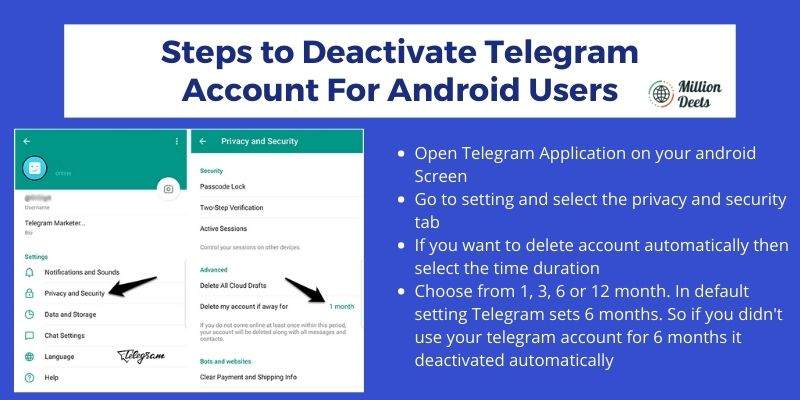 Half of the world's population are using mobile phones nowadays. Without mobile there is no life, because of its necessity. And day by day all the people are using different applications but not all are safe. Keeping this in our mind we are informing you about how you can simply delete your Telegram Profile permanently. Follow the below instruction if you want to deactivate instantly.
Steps to delete Telegram Account For Android Users:-
Open Telegram Application on your Android Screen
Go to setting and select the privacy and security tab
If you want to delete the account automatically then select the time duration
Choose from 1, 3, 6, or 12 months. In the default setting Telegram sets 6 months. So if you didn't use your telegram account for 6 months it deactivated automatically.
After performing these steps avoid using telegram for the selecting time duration or remove it from your app list. Your account will deactivate automatically after the selected period.
How to Deactivate Telegram Permanently from iPhone?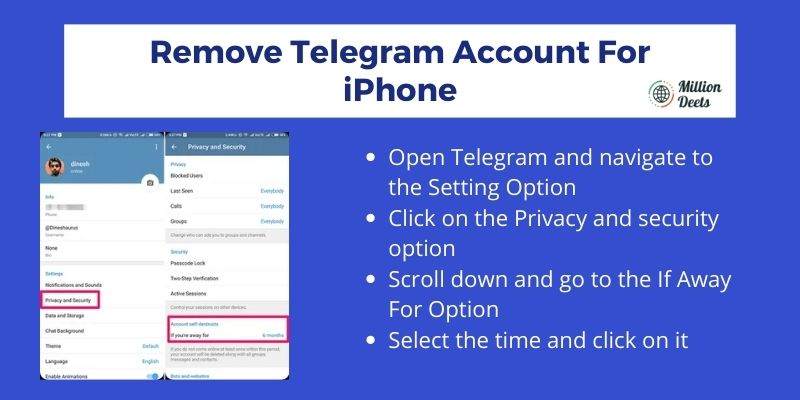 Most of the people are iPhone lovers, especially Youth. So if you are one of them who want to remove Telegram from the iPhone then you do not need to wait long. Because with the help of the mentioned steps you become eligible to delete Telegram from your iPhone. Follow the simple 4 Steps to remove-
Open Telegram and navigate to the Setting Option
Click on the Privacy and Security option
Scroll down and go to the If Away For Option
Select the time and click on it
When you select the duration your account will remove automatically with all the messages and contacts.
Many of the users prefer to use web browsers rather than iPhone and Android. Because of the growing issues in the world, people are spending most of their time on desktops as compared to mobile phones.
So below you will find detailed information about deactivating or removing the telegram on the web.
Steps to Remove or Delete Telegram Account on Web Browser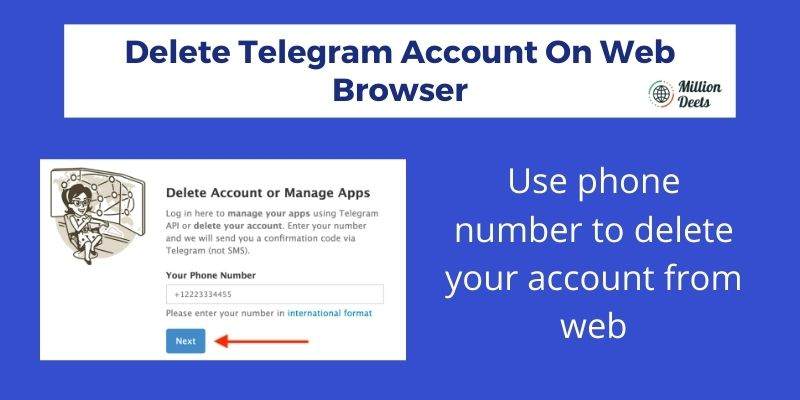 Move towards the https://my.telegram.org/auth?to=deactivate and this step can be followed on both Web and mobile phones.
Type the phone number in the given box with the country code.
Now you will receive an alphanumeric code on your mobile app.
Put the code to sign in to the telegram account. You don't need to wait for any msg on the mobile number.
Navigate to the telegram core section and click on the delete account button.
After clicking on the delete account button the user must add the reason for deleting Telegram Account.
Before removing the account Telegram will ask if you surely want to delete this account. If you want to delete the account then click on the yes button. 
Conclusion: How to Delete Telegram Account Permanently
While we all know how fun it is to be connected with our friends and family on Telegram. It is also evident that not everyone is satisfied with the usage of same. Many of us are quite ok with using other alternatives like whatsapp and discord to fulfil our needs. In such cases it is better to delete the Telegram account permanently instead of keeping it idle.
We have shared multiple ways in which you can delet your telegram easily on any device without any hassle. By using such steps you can get the work done easily.
Frequently Asked Questions
Will my contact know If I Delete Telegram?
When you delete your telegram account then all your messages and chats are deleted from your side. All your group and associated chats will be removed. But all your group members have a copy of that chat on their account.
How to know if someone deleted and blocked me on Telegram?
If you are sent a message to someone and the DP of the person is not visible, or the active status of the person, or double click on the messages then you must be blocked by the users. If anyone deleted their account from Telegram then the contact delate of the person is not visible to you or you will get a message to invite him/her on Telegram.
How to Delete Group Messages?
If you are an admin of the page then you are allowed to delete any member chats. Otherwise, with the help of similar steps, you can delete the group chats.
How to Delete Telegram Account Messages?
If you want to delete the message from your Telegram account then it is possible for you. On the messaging app of Telegram, you can delete all your sent and received messages. You only need to select the chatbox and a particular one then you will see a delete box on the top of the page. Click on the page and delete the box easily.