Hey Everyone. Here you will get to know about Best Hair Care Tips For Men. Because it has become significantly important for every individual to maintain themselves presentable and attractive in today's life. No matter if you are a student, professional or self-employed. You always want to present yourself in such a way that it creates a positive impact on everyone else.
Hairs have always been the most important asset not only for men but also for women. Considering the modern lifestyle, Hair-loss has recently become a very burning topic not only among mature men but also amount youngsters. Easy to say it is because of the stressed lifestyle and frequent use of chemical products. Additional reasons could also be poor nutritional habits and lack of proper knowledge about basic hair care habits.
Healthy and luscious hairs are always achievable as long as one is ready to put in the required efforts. The same is likely possible for both men and women. There is no real difference between men's and women's hairs and more importantly, hair doesn't discriminate.
The major hair loss problem often found in men is not because they have different hairs than women. But it is because men prefer opting for a no-fuss, easy, and quick hair management process as compared to women. This may or may not be an ideal choice for men as women are found to be putting more emphasis on their hair care routine and are quite successful.
If you are looking for some basic hair care techniques which can help you gain healthy luscious hair. Also if you are a guy who wants to get rid of hair problems like dry scalp, fizzy hairs, etc. You should start from below basic hair care tips for men.
List Of Best Hair Care Tips For Men
Here you will find the best Hair Care Tips For men. You are eligible to add these tips to your daily routine. You can choose the best product too with the routine.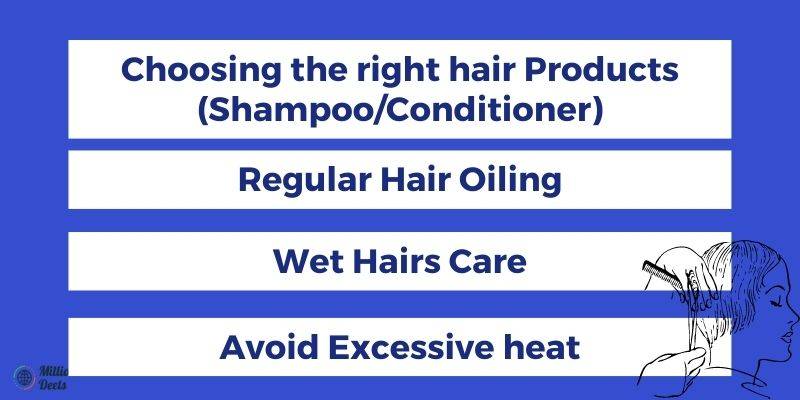 Choosing the right hair Products (Shampoo/Conditioner)
In the current advertising world, we buy what we see. The same problem exists while choosing hair products as well. Be it the shampoo, conditioner, or the oil you use for your hair.
Have you ever gone through the ingredients list while choosing the shampoo or conditioner you use? The answer will more likely be no. The same is quite understandable as we don't have enough understanding about what to include and what to avoid. Unfortunately, there are too many popular brands available in the market which use various harsh chemical while making their hair products. These products might provide your hairs much needed shine however could be damaging for your hairs and scalp in the long run.
Always prefer going for hair products that are free from chemicals such as sulfate, parabens, mineral oils, artificial fragrances, and synthetic colors. Also, consider avoiding too many hair products as they will damage your hair term needed in the long run.
Hair Oiling
Oiling the hair is one of the most important practices that every man must follow. Most youngster these days avoid oiling their hairs which is a mistake leads to various hair problems.
Oiling hairs has numerous benefits if done properly. Identify your hair type and gently oil massage your hairs and scalp in a circular motion regularly as per the requirement. Consider oiling 1-2 days a week if you have oily hairs and 3-4 times a week if you have dry hairs. Also, avoid excessive hair oiling or avoid washing the hairs frequently. This might hinder the production of natural oils on the hairs and scalp. If you have a dry scalp, prefer oiling at night and wash off the hair in the morning. On the other hand, if you have an oily scalp, oiling hairs an hour or two before the hair wash will serve the purpose.
Further, Always prefer 100% natural hair oils and avoid any chemical products to increase the benefits. Also, be informed that coconut oil is preferable for all hair types. Mustard oil is ideal for dry hairs; whereas badam Rogan oil is best if you are fighting dandruff.
Wet Hairs Care
Wet hairs are highly prone to damage and need to be taken care of more carefully. It is always advisable to gently towel dry the hairs rather than vigorously rubbing them with a towel. Also, Instead of using a hot blow dryer, prefer using a cold blow dryer to dry the hairs. Avoid combing the hairs when they are wet as it might lead to damaging the roots of the hairs in the long run.
Further, always make sure that the hairs are properly wet before applying any cosmetic hair products. And it is always advisable to wash off any hair products and dry the hair properly before going to bed.
Avoid Excessive Sunlight
It is always said that sunlight is very important for getting that much-required dose of vitamin D. The same seems ideal for the body but it might not be equally good for the hair. The UV rays emitted from the sun can cause a lot of damage to the hairs. The excessive heat from sunlight may dry the hairs and scalp excessively making the hairs frizzy and damaged.
Always prefer wearing a cap while going out in the sun. Avoid washing the hairs with hot water as it will lead to various hair-related problems.
Stress Management
The high stress level is directly associated with the health of hairs. It releases the hormone in the body called cortisol which feeds on protein. This protein in the body is lost in the form of hairs.
The main reason behind the high stress level could be excessive use of social media, work pressure, family pressure, and various other emotional aspects.
Consider giving yourself a break from your normal routine. Exercising, meditating, spending quality time on favorite hobbies can help in living a stress-free life. Also, this will drastically improve the health of your hair in the long run.
Nutrition is Important
A body that is devoid of nutrition will always impact the health of hairs. Our body always prefers giving more importance to the functioning of the main body organs rather than the production of hairs. Lack of nutrition will always lead to hindrance in the production of hairs.
Excess consumption of salty fast food, sugary drinks, Packed juices has become very common in the lifestyle of young individuals. The inclusion of alcohol and smoking is also something that needs to be controlled or limited as early as possible. One can easily maintain their hair's health if they focus on all such factors in day-to-day life.
Since hair strands are made of protein, it is always advisable to include a protein-rich diet in the daily lifestyle. Healthy fats and omega 3 fatty acids must also be included in the daily of an individual. The daily nutrition must also consist of iron-rich food, Vitamin B and C. Nutrition-rich food helps in providing the overall nourishment to the body which in turn leads to healthy hair growth.
Practicing Balayam
As the name suggests, Balayam is a yogic practice backed by ancient Ayurveda ideal for healthy hairs. It helps not only with healthy hair growth but also prevents the premature greying of hairs.
One can rub the fingernails of both hands for 5-10 mins in a day to avail the magical benefits of Balayam. It is always advised to do the same on empty stomach or 3-4 hours after the meal
This practice is very fruitful for all those who are fighting various hair-related problems like thin hairs, premature greying, etc.
Overall Nourishment of Hairs
It is extremely difficult to find out a sure short solution to provide overall nourishment to the hairs. However: to provide the best possible nourishment, one can mix multiple natural oils and can heat the same before applying it to the hairs and scalp in a circular motion.
This practice will surely help in providing your hairs and scalp the much-needed nourishment.
Conclusion- Best Hair Care Tips For Guys
Taking care of hair is one of the most important aspects of daily life. If one follows the above-mentioned tips and focus on living a healthy and active lifestyle then surely healthy hairs are achievable easily. Once you understand your hair type and start observing what suits you better, it will be much easier to follow the required practice.
Further, It is to be noted that consistency is the key. Once you understand your hair types and suited practice/products. It is always advisable to plan a routine around the same and stick to it to see quick results. Always prefer making a simple and easy-to-maintain routine. The simple, the better.
Also, If you are facing excess hair-fall or other related problems then it is always advisable to see a doctor as early as possible. Getting the much-required medical assistance at the right time is equally important. You may also discuss your concern and opinions with the professional to find out the best possible solutions to various other hairs related problems.