Both editors offer effects and functions, and the debate between Filmora vs iMovie 2023 has always been long-running among editors. People are eager to know about them and their differences due to their paid and free versions. Both are compatible software but which one you should as a professional is quite complicated. So, find the difference between Filmora Vs iMovie to buy the best one.
Comparison Of Filmora vs iMovie 2023
| | | |
| --- | --- | --- |
| Basis | Filmora | iMovie |
| Availability | Windows, macOS, iPadOS | mac OS, iPadOS, iOS |
| Rating | 8 Star out of 10 | 8.7 Stars out of 10 |
| Advance Editing Features | Yes | No |
| Special Effects | Yes | No |
| Budget & Pricing | $49.99 Yearly$79.99 Perpetual Plan | Free |
| Live Chat | Yes | Yes |
The decision between the two choices might sometimes leave people confused. It is not their fault; decision-making is influenced by features, interface, usability, etc. Don't worry if you're in the same situation; this blog has comparisons, similarities and FAQs.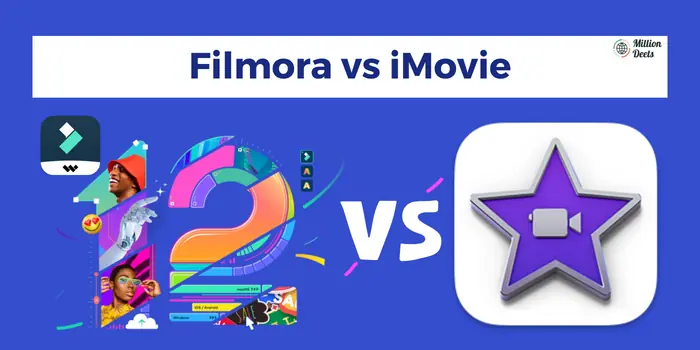 Verified
Upgrade With 40% Off Discount By Filmora 12 Coupon Code
Exclusive 40% Off on the Filmora 12. Buy now and create a video with your loved one and win $200.
Difference Between Filmora And iMovie Prices
Before investing money in any of the software let's find out which is the most reasonable one and worth using. To know the price difference between Filmora and iMovie is quite simple because Filmora is paid software and iMovie is free to use.
Both the difference between paid and free is quite impressive to understand. Free software does not provide all the features that a video creator needs but, you may find them in the paid one.
Filmora Prices
The annual plan costs $49.99 per year and includes Silence Detection, an in-app purchase add-on, senior tech support, no watermark on your exported videos, one year of Filmora updates, one month of the AI portrait add-on, unlimited asset downloads, unlimited downloads of standard assets with a specific tag, and unlimited asset previews.
No watermark on your exported videos, lifetime access to Filmora X, one month of the AI portrait add-on, unlimited asset download and preview, one month of unlimited downloads of standard assets with a certain tag, senior tech support, and the in-app purchase add-on Silence Detection are all included in the perpetual plan, which costs $79.99 all at once.
The combined subscription costs $109.99 annually and includes a year's worth of access to Filmstock's regular service and a year's worth of access to Filmora's video editor. You can compare the Filmora 11 vs 12 before buying the version.
Note- If you want to upgrade the Filmora 11 to Filmora 12 then you have to follow some steps to update it at the same prices.
iMovie Prices
Only apple users can have access to iMovie for free, and it is not available on any other products.
Also, Know about Filmora vs PowerDirector
Filmora Vs iMovie Features and Usage
To compare the software services comparison between Filmora and iMovie is essential. Because both are video editing software but offers quite different features as per the need of the users. So, to find the best one compare the features of iMovie Vs Filmora.
Filmora Features & Usage
The majority of users of Filmora are novice editors. The workflow is simple to follow, and the UI is easy to understand. It's also a fantastic alternative for beginner editors using Windows or Linux operating systems instead of macOS. Actually, this is the only factor that makes Filmora the winner in this category.
Filmora expands the doors to its use by allowing access to any form of editor on any type of operating system.
A wide range of tutorials and articles are also available on Filmora to aid in carrying out a desired action or effect. These factors make Filmoria the clear winner in the usage category.
iMovie Features & Usage
Users of macOS are the only ones who can use iMovie. However, it can be used for free and is frequently already downloaded on newly purchased smartphones. Of course, those goods typically cost more than others.
The fact that iMovie works on mobile devices like the iPad and smartphones in addition to laptops and desktop computers is an incredible benefit. This enables faster on-the-go editing than any other method. In contrast, the majority of other video editing programmes can only be used on desktops or laptops.
In truth, the procedure is highly effective when generating something solely with Apple products. For the vast majority who do not own all Apple goods, this is ineffective.
Similarities Between Filmora and iMovie
Simple-to-Use Application
Even if you're a novice and creating a film for the first time without any guidance, iMovie and Filmora are simple-to-use applications.
iMovie is free and included with Mac; amateur editors can use it to trim video clips and put them together into coherent films. However, Filmora is user-friendly software with cutting-edge capabilities that benefit both novice and experienced editors.
You may create transitions, stabilise shaky films, improve or tweak colours, crop video clips, and control the background noise of your footage using Filmora and iMovie. You anticipate finishing editing your document within the allotted time because these capabilities are also easy to use.
The editing tools rarely stutter or crash. To eliminate latency problems and make editing simple, it's advisable to double-check the OS requirements for these tools, whether you're using Filmora or iMovie.
Also Read – How to Record Videos On Windows 10?
Filmora Vs iMovie Ratings and Reviews
| | | | | | | |
| --- | --- | --- | --- | --- | --- | --- |
| Software | Value for money | Ease of use | Features | Customer support | Likelihood to recommend | Overall Ratings |
| Filmora | 4.5 | 4.5 | 4.5 | 4.5 | 8.84/10 | 4.6/5 |
| iMovie | 4.5 | 4.5 | 4 | 4.5 | 8.44/10 | 4.5/5 |
Conclusion – iMovie vs Wondershare Filmora
Choosing a video editing programme might be difficult, especially if you're new to the editing field. Get a clear understanding of your requirements before choosing.
If you summarise these ideas while concentrating on the information provided above, you'll discover that Filmora guarantees usability, offers a range of basic to complex functions, and has received impressive rating points on many websites.
FAQs – Wondershare Filmora vs iMovie
Does Filmora Offer Superior Video Editing Capabilities To iMovie? 
Both editing tools definitely have a strong feature set. Moreover, there is no denying that utilising any of these tools can make the video editing process more efficient. It may be difficult for you to determine which software is superior, though. This easy formula of four questions can be used to solve. 
Which Software Is Simpler To use? 
The more difficult features of video editing software are made simple to utilise using Filmora. However, iMovie is the simplest video editing programme if you only need the essentials. It's a tremendous experience to be able to edit a film in the palm of your hand, and since it's included with your Apple device, it's simple to choose to utilise it if you have it.
Which Software Offers More Sophisticated Features? 
The most cutting-edge editing software is Filmora. For those who wish to keep things simple or are beginning users, there is iMovie.
Which tool can be used across various platforms? 
In contrast to Imovie, which can only be used on iOS, Filmora may be used on a variety of devices.